Optimal visiting times
Inform your visitors on which day of the week, and which hour of the day the venue is most crowded. For example, your gym guests would like to know when it is peacefully and quiet. Guests in a nightclub would like to know when it is hot and happening. Boost your customer experience by using our automated day and week overviews!
Peak Analysis
Peak Analysis
BestTime.app automatically forecasts the visitor peaks per day. It informs you:
How much peaks there will be per day
At what time the peak start, peaks, and ends
How long until the next peak starts
At which hour most people go into the venue, or leave the venue
More analyses
Week analysis
The week analysis shows an overview per weekday with:
How busy each day will be
Ranking based on the maximum peak of the day
Ranking based on the total visitor's volume of the day
When most people go to and leave the venue
You can embed the week analysis data on your website to inform your customers about the optimal visiting time per venue.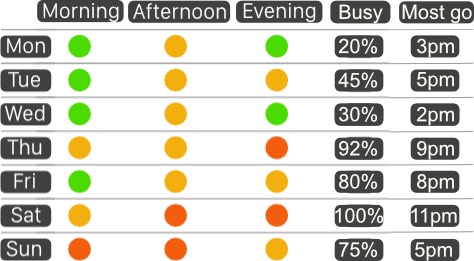 Hourly forecast
Hourly forecast
The busyness for each hour of the week:
Indicated on a 5 point rating (Low, below average, average, above average, high).
High precision as a percentage from 0 to 100% in steps of 10%.
More analyses
Live data
Live data
Besides forecast we can provide live data. Live data includes:
Live busyness at the venue
How much more, or less busy it is compared it is to the forecast
More analyses
Use cases & benefits
Our service could benefit your business in many different ways
Customer experience improvements
Customers love to know how busy your venue will be. Some like to avoid the crowded dayparts, and some love to socialize at the busy evenings. Display for example all the peak hours for all your venues.
Enrich data
Enrich your (web) apps, and existing business data by integrating our API. This could be used to compare how busy your venues are with other business metrics.
Beat the competition
Beat the competition by comparing your venue with multiple competitors. This could be for example used to find the optimal time to run an event or customer promotion.
Market demand
Get insights into the market demands. Compare for example the demand for multiple competing retailers. Are venues busier than the historical average, or visa versa?
Geographical analysis
Analyze venues in a specified geographical area, from street level to a whole city. This could be used to research the popularity of certain neighborhoods at a certain time of the day.
Efficient resource scheduling
Optimize the workload for your employees, and other scheduled resources, by applying the insights from the day and week analysis.
More use-cases
Find the most popular hours of a bar using the peak and surge analysis. This way you will never end up in an empty bar, and never end up in the queue.
Find the quietest gym by comparing multiple gyms in your neighborhood.
Find the best time to go to a museum and avoid the queue.
Add time and day suggestions to a nightlife listing website. Most listing websites tell you which bars and clubs are recommended, but never tell you what is the best day and time to go.
Find out of a venue is more crowded than normal at this moment with the live data.
Use the build-in dashboard for your venue (e.g. reception, kitchen, etc) to keep your employees informed how busy it is now (live), how busy it will be next hour (forecasted), and when the next peak is coming.
Behavioral research: Get insights on how people behave in certain areas. E.g. in general gyms tend to peak around 7 am and 7 pm, restaurants tend to peak around 1 pm and 9 pm, shops tend to peak around 4 pm.
Developers API
Developers API
Request (bulk) venue forecasts effortlessly with our API. Using the API you can create new forecasts, or query a specific analysis of an existing forecast.
Create a new forecast within seconds (1-2 seconds).
Existing forecasts can be queried instantly
World wide venue coverage
Tools
We are currently building tools on top of the API to make the data easier to use in several use-cases.
Compare: Create a personal overview to compare the busyness of multiple businesses. This way you can for example see when your favorite shop is less crowded, or when your favorite bar is hot and happening. Click here for the online demo.
Widgets: Create widgets for your list websites (e.g. best bars in New York City). These widgets display what are the popular days and times of the week. They also update automatically on your webiste. The widget tool is still under construction. Contact us for more information.
Triggers: Automatically send a message to your email/ phone when a venue reaches a certain buysness. E.g. when your gym is quieter than normal, or when your favorite bar is getting busy. This tool is still under construction.
Neighbourhood: Get the busy hours for all venues in your selected neighourhood. You can filter on business category (e.g. bar/ gym/ museum/ shop/ etc.). This tool is still under construction. Contact us if you are interested in this tool..
How does it work?
1. Select venues
Enter the name and address of the venue using our website, or in bulk using the API.
2. Automated forecasts
BestTime.app will automatically forecast the venue based on the most recent data. The result includes all primary analyses (week-, day-, hour-, peak-, and surge analysis). Each subscription plan includes a maximum amount of maximum monthly forecasts. The venue forecast results will be stored on the server.
3. Additional queries
Additional queries can be made on the stored forecasts. This includes the original venue forecast analyses and additional detailed venue analytics. E.g. the time remaining (countdown) until the next peak of the day. Each subscription plan includes a maximum amount of maximum monthly queries.
Start for free
It takes less than a minute to start forecasting
Contact us
Contact us for questions, custom analyses, or API functions.
F.A.Q.
What is a forecast?
A venue forecast result includes data on how busy a venue approximately will be. The forecast includes different analysis, e.g.:
Most busy days of the week (maximum, and mean)
Daily peak hours, start, end, and intensity of the peaks
What time most visitors come and leave the venue
The quietest hours of the day
Forecast for every hour of the week
The forecast is stored on the server, so additional (detailed) queries can be made on the forecast. Each subscription plan has a maximum amount of monthly forecasts. You can use these forecast to forecast a venue multiple times (update it) or forecast different venues.
What is a query?
A query gets specific data from an existing stored forecast. While a new forecast could take a few seconds, a query is almost instantly. Queries can be used to e.g.:
get a specific part of the analysis for a specific day (e.g. only the peak analysis for Friday)
get the forecast for the current day and our hour, with the venues local timezone taken into account
get the remaining time (in seconds) until a next event (e.g. until next peak)
How accurate are the forecasts?
The normal forecasts are made based on historical visitors to your venues. Based on this data we provide forecasts for each part of the day, for each day of the week. The forecast values indicate how busy a venue relative is, as compared to its maximum busyness.
What is live data?
Live data indicates how much more or less busy a venue is at this moment. This is compared to the historical value for the current day of the week, and hour of the day.
Where do you get the data from?
The data is based on anonymous aggregated signals from mobile devices.
Does it work on all venues?
Our automated forecasts only work reliable on venues with a minimum amount of visitors to your venues. The minimum amount is approximately 100 visitors per day per venue.
Are forecasted automatically updated?
No, after a forecast is made it will be stored on the server. Using the website or API a venue forecast can be updated. Coming soon: automatically update a forecast
How many forecasts and queries can I make each month?
When subscribed to a plan you will get automatically new forecast and query credits every month. Check the 'Pricing' section for the number of forecasts and queries per month. All unused forecasts and query credits will roll over to next month.
Can I use this data on my website for my customers?
Yes, you can show how busy it will be in your venues to your customers. You can integrate the data on your website, or your apps using our API.